Dental Bridge
If you are missing teeth due to trauma, gum disease, or untreated cavities, you may struggle to eat, speak, and smile with confidence.
A dental bridge is a completely customized set of prosthetic teeth that fills the gap in your smile and provides lasting comfort.
Curious what a dental bridge can do for you?
A Dental Bridge Can Restore
BALANCE AND FUNCTION TO YOUR SMILE

A bridge renews your ability to chew and speak properly
A bridge not only immediately improves your quality of life, but also prevents surrounding teeth from shifting. This lowers your risk of misalignment in the future.

Bridges are custom-made to blend with your natural teeth
Your dentist can create a stunning bridge that fits seamlessly into your smile and complements your unique facial features.

A bridge can be supported by dental implants
If you choose an implant-supported restoration, your healthy teeth will not need to be altered to support a bridge.
Now let us show you how a bridge works...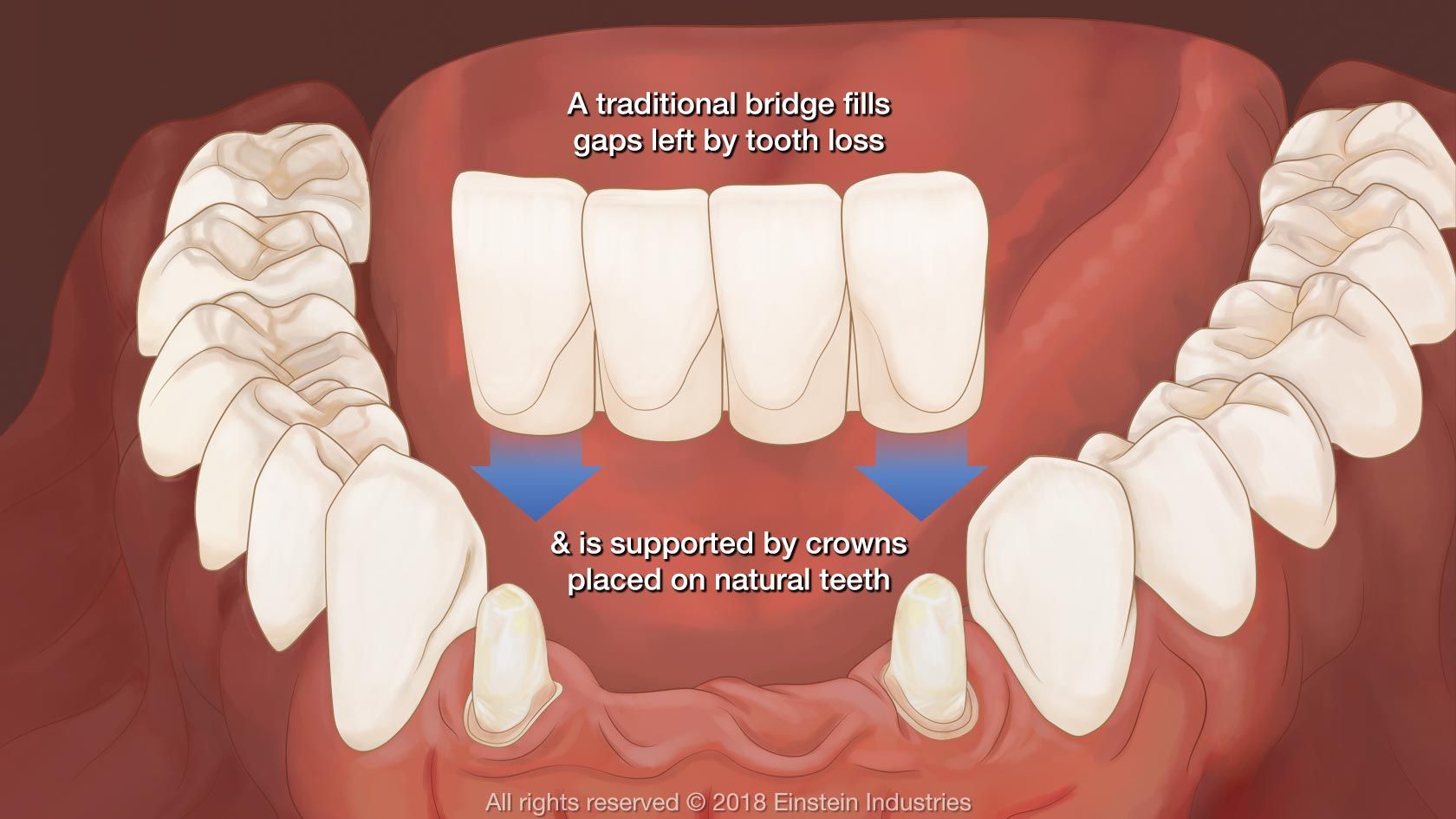 A Bridge Can Replace One to Three
CONSECUTIVE TEETH IN A SINGLE TREATMENT

According to the National Institute of Dental and Craniofacial Research.
Both traditional and implant-retained bridges improve daily function…

Traditional vs. Implant-Supported Bridge
For a Traditional Bridge

Your dentist will resize your surrounding teeth to make room for your dental bridge and the supporting dental crowns.

He or she will then take impressions of your smile to design a bridge that looks and feels very natural for years to come.

Your impressions will be sent to a lab, where a skilled technician will create your custom bridge.

Once your dental bridge is ready for placement, your dentist will secure it in place using dental cement.
For an Implant-Supported Bridge

Your dentist will perform dental implant surgery.

Four to six months later, your dentist will place your abutments and take impressions of your smile.

Your impressions will be sent to a trusted lab.

When your permanent bridge is ready, your dentist will secure it to your dental implants.
Still not sure whether a dental bridge is the best choice for you?
But Will My Dental Bridge
LOOK AND FEEL NATURAL?
When carefully designed by a dentist and expertly manufactured by a laboratory, a dental bridge can provide natural-looking results for up to 15 years or more after placement.
Prior to placing your bridge, your dentist will conduct a bite assessment to ensure that your new prosthetic fits comfortably in your smile. There are a variety of materials that can be used to craft bridges, including porcelain, zirconia, and porcelain-fused-to-metal. Your dentist can help you choose the best type for you based on your budget and goals.
Are you wondering what to expect during treatment?
After reshaping your surrounding teeth to make room for your dental bridge, your dentist will cement the restoration in place.
Understand Your Options
If you need to replace a single tooth, you may consider the benefits of an implant-supported crown. However, if you are missing several teeth or an entire arch, you may qualify for implant-supported dentures.
A bridge is a custom tooth replacement solution that can be tailored to your budget and long-term goals. If you are missing teeth, you should receive treatment as soon as possible to prevent more widespread damage. Schedule an appointment today to protect your smile.
see more
A dental bridge uses your natural teeth as abutment to restore a missing tooth. Let's say you're missing one tooth, you would use two teeth adjacent to the missing one as abutment to make a bridge. This allows you to chew on top of the bridge.
A denture is a removable appliance used to restore several missing teeth. A bridge can also restore missing teeth, but it is fixed onto your teeth, making it more convenient.
The pros of a dental bridge include convenience, comfort, and improved chewing function. The cons involve having to grind down the neighboring teeth to fit the bridge on, which could damage healthy teeth.
The types of dental bridges include the regular conventional bridge, which is supported by two teeth, and the Maryland bridge, which is supported by one tooth with a cantilever on top.
Implant therapy is an excellent alternative. With implants, you don't need to grind the neighboring teeth. An implant is simply placed at the missing tooth area and can then be restored with a crown.
A removable dental bridge can be taken out, but it's not a standard care in the U.S. That's why you typically choose a fixed bridge or an implant crown.
A cantilever or Maryland bridge uses one tooth as an abutment. We prep the tooth minimally, put a wing on the side, and then a pontic to restore. This type of bridge heavily relies on the bonding system. We have a very good bonding resin cement system at our office.
The main benefit of a dental bridge is that it restores missing teeth and holds the neighboring teeth in place. It allows for a stable bite and chewing force with opposing teeth, keeping your dental arch stable.